Hazardous Materials Response Team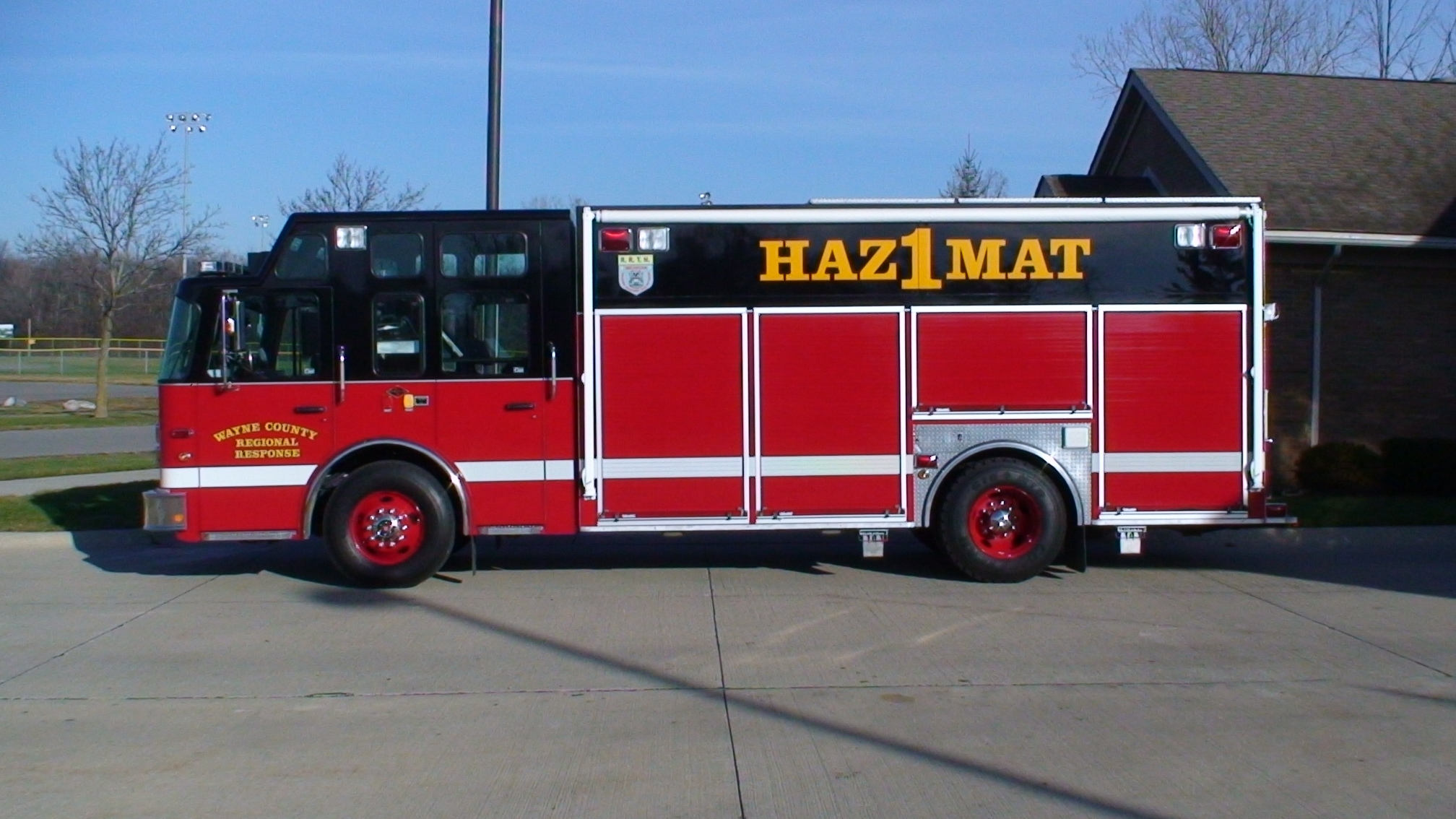 The Livonia Fire & Rescue Department is home to the Western Wayne County Hazardous Materials Response Team (Western Wayne County HMRT). Currently, Western Wayne County HMRT "Haz-Mat 1" calls Station 3 home, which is located on Seven Mile Rd. in the city's northwest side, responds to all incidents involving hazardous materials.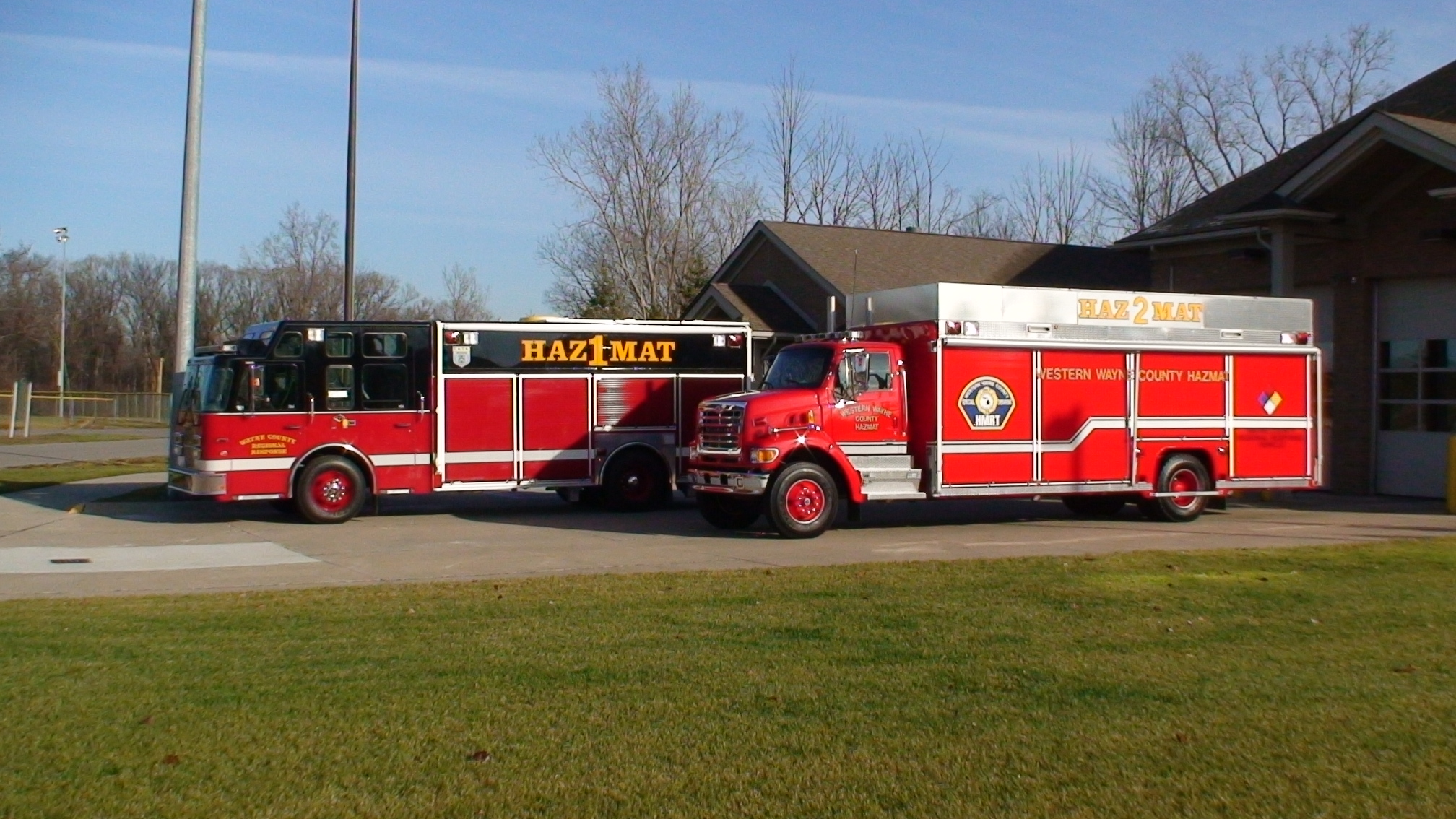 Brief History of Western Wayne County Hazardous Materials Response Team:
The Western Wayne County HMRT was formed in 1987 by the Western Wayne Fire Department Mutual Aid Association (WWFDMAA) through the cooperation of 23 communities. The team currently has 45 members that come from Mutual Aid Associations Fire Department that are located within the Detroit metropolitan area. The Western Wayne County HMRT, or "Haz-Mat" Team, has a response area that encompasses parts of three counties, thousand of squired miles, and protecting more than 2.9 millions residents.
The team is also responsible for incidents at the nation's 11th busiest airport, Detroit-Wayne County Airport (DTW) which handles 40 million passengers and 360 million pounds of cargo each year. The airport alone has an annual economic impact on the region of $15.2 billion. The team's success is directly credited to its Coordinator Chief Whitehead, the eight Team Leaders and the outstanding support and cooperation provided by each community of the WWFDMAA.
WesternWayne CountyFire Department Mutual Aid Association includes:
Canton
Dearborn
Dearborn Heights
Farmington Hills
Garden City
Huron Township
Inkster
Livonia
Northville
Northville Township
Novi
Plymouth Community
Redford Township
Romulus
Superior Township
Taylor
Van Buren Township
Wayne
Wayne County Airports
Belleville
Westland
Ypsilanti Township
Sumpter Township
In 2005, the Haz-Mat team became one of eighteen Regional Response Teams or "RRT" for the State of Michigan. Since becoming an RRT, They have increased they're resources so that they are able to respond to larger incidents, including those related to weapons of mass destruction. By becoming an RRT they also increased they're response area to the entire state of Michigan.
Brief History of the Michigan WMD RRTN:
Shortly after September 11, 2001, Michigan recognized the need to respond to terrorist attacks and the likelihood that weapons of mass destruction (WMD) would be the means and method of affecting far reaching public casualties across our state. To address these threats, Michigan established a Regional Response Team Network (RRTN), comprised of seventeen hazardous materials team (a.k.a. Haz-Mat Teams). The Haz-Mat Teams chosen represented the best and the brightest the State of Michigan had to offer, as they had already demonstrated state-wide cooperation on hazardous materials spills and releases, as well as providing outstanding resources and support to other emergency response networks.
The Haz-Mat Teams that make up Michigan's RRTN include:
· Detroit Hazmat
· Ann Arbor Fire Department
· Wayne County Hazardous Materials Response Team
· Lansing Fire Department
· Grand Rapids Hazmat Team
· Oakland County
· Clinton Twp Fire
· Berrien County Sheriff Department
· Traverse City Fire Department
· Warren Fire Department
· Sterling Heights Fire Department
· Muskegon
· Tri-City Area Hazardous Material Team
· Alpena Fire Department
· Battle Creek
· Escanaba
· Saint Clair County Hazmat Team
Since its formation and over the past eight years, the RRTN has been providing rapid emergency response assistance for events involving WMD and acts of terrorism, coordinating resources and professional expertise for a wide range of disciplines and across local, state and Federal levels. Additionally, the RRTN and local resources and communities, augment and heighten the emergency response efforts of the Michigan Department of State Police and their resource divisions: the Emergency Support Team, the Canine Unit, and the Bomb Squad.

Livonia is represented by three members:
Captain Michael Magda, LT. Wade Clay
---
Page Last Updated: May 07, 2017 (07:20:37)